DensiCrete's proprietary wetting and dispersion agents allow it to penetrate deeply into the concrete matrix. Densicrete then combines with the residual calcium hydroxide to form calcium silicate gel, more concrete. The newly formed concrete gel fills the pores and because it is so dense it displaces salt, oil and acid from inside the concrete to the surface.
The following applications show DensiCrete at work:
While still in operation, DensiCrete was applied under the kitchen fryers where it displaced years of built up grease inside and on top of the concrete. In the second photo DensiCrete was applied to the seating area where 40 years of food and beverage spills were removed.
A small portion of the limestone façade on a building in downtown Pittsburgh was treated with DensiCrete with no preparation of the area. 30 days later DensiCrete alone cleaned the treated portion to its original white color.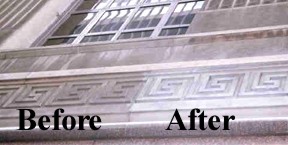 The residential sidewalk was broom swept only and DenisCrete was applied to a small section. 30 days later DensiCrete alone cleaned and sealed the concrete surface.
Densicrete was applied to a small section of the City of Boston maintenance garage. 10 Minutes later the areas was covered with salt that was displaced from inside the concrete